Safe Stay
Welcome back to the Coppid Beech Hotel. In these unprecedented times we have created a safe way to continue to operate our business in the safest possible way in partnership with our customers.Our new "Safe Stay Policy" has been put together with our customers and employee safety as our highest priority, working in conjunction with experts to make this dynamic policy possible.
Being dynamic, it will be constantly updated with government and industry advice along with our customer feedback, making our policy constantly relevant to achieve all our goals of a safe environment to stay, play and work in.
Cleaned and sanitised with the latest COVID-19 hospital grade chemicals
Trained staff in 'Safe Stay'
Sealed rooms with quality assurance
Guest information on the in room media system
30 point enhanced cleaning check list
Sanitising wipes for TV control or phone for added confidence
All touch surfaces disinfected with COVID-19 hospital grade chemicals
All cushions and throws have been removed
All magazines and literature removed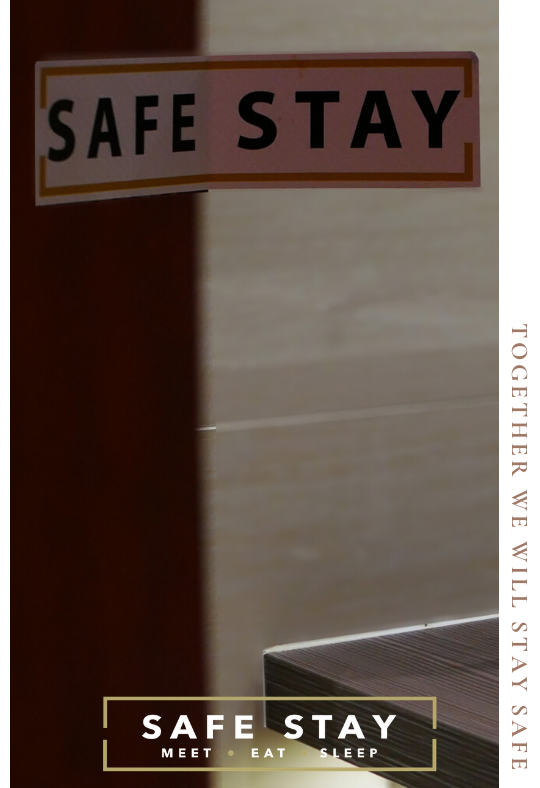 We have increased our already high levels of cleanliness to assist with the safe management of the COVID-19 outbreak.
Below are just some of our new additional steps which we have taken:
It is mandatory for guests to wear face masks/coverings in the public areas of the hotel

Guests will be provided with relevant sanitising options whilst in the hotel within all areas

All touch points will be part of an in depth and constant sanitising program

Our new 'Safe Stay' quality of cleaning seals will be placed on bathroom and bedroom doors, once the rooms have been sanitised to ensure the safest possible stay for our guests

Social distancing in all public areas will be adhered to with signage present to help advise

Our food safety policy and menu development has been reviewed to embrace social distancing rules

Contactless payments will be encouraged

Our teams have had shift patterns and work environments reviewed including the re-design of offices to ensure the best care for our team to deliver our usual high level of service safely

Dedicated duty manager trained in our 'safe stay' policy will be available 24/7 for help and advise
All employees have been re-trained in our 'safe stay' training

All bookings will receive the above information in a pre-arrival pack to help understand the new policies which embrace the government guidelines
Car park and entry
The Coppid Beech Hotel has an extremely spacious car park for a contactless arrival. We have an 'in and out' system to help people social distance in our spacious reception area.
Sanitiser
We will have our sanitiser stations set up, gloves and face covers provided on request if you forget your own PPE.
Checking in and out
Check In and Check Out have been modified with a single queuing system with social distancing measures in place, for a contactless process. All key cards will be sanitised by ultra violet light.