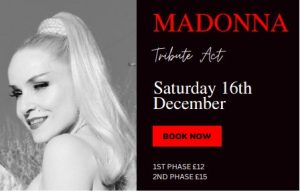 Miss Madonna, the multiple award-winning, world-class tribute act to the amazing Queen of Pop.
Jodie Jackson has been officially recognised as the UK's No.1 Madonna tribute act by the Entertainment Agents' Association since 2013. This super-talented performer launched her accolade to Madonna in London in March, 2009, after a glittering career in which she starred in many West End musicals and other sensational shows at home and abroad.
Since then Jodie has excited audiences in the Far East, Middle East, most of Europe and, of course, the UK with her celebration of Madonna's chart topping, monster hits.
Tickets: 1st phase £12, 2nd phase £15 , includes entry to Apres
Note: Standing only in Bier Keller
Doors open 7pm, act 9.45pm
Book Tickets Here
Note: As a condition of entry to the Bier Keller and Après you will be required to provide photo ID By providing your ID you agree that your information may be used and shared with the police and other authorities. Failure to provide suitable photo ID will result in the refusal of admission
Please note that access to Keller & Après cannot be guaranteed unless tickets have been purchased in advance