Malt Loaf vs Blondie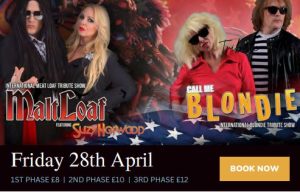 Meat Loaf VS Blondie
Meat Loaf Tribute by Adrian Marx
Classically trained Adrian Marx brings you Malt Loaf – a tribute to Meatloaf. This show is full of the pomp and flamboyance that the Texan Rocker himself gives to every performance.
Bringing you hit after hit of Meat Loaf classics from every stage of his career Adrian delivers a second to none Meatloaf tribute show with all the frills including costume, state-of-the-art PA, programmed lighting and back drop.
Blondie tribute – Suzy Hopwood
Suzy Hopwood performs her tribute to 80s global pop star Debbie Harry and Blondie. Having 20 years live performance experience Suzy is the consummate professional, technically strong, flawless and effortless vocals across 3 octaves. She has performed all over the world in residencies, cruise ships, holiday parks, nightclubs, bars, restaurants, weddings, corporate parties and for the armed forces in the UK and Germany.
TICKETS:1ST PHASE £8 | 2ND PHASE £10 | 3RD PHASE £12 – includes entry to Après
Doors open 7pm, act 9.45pm
Book Tickets Here
Note: As a condition of entry to the Bier Keller and Après you will be required to provide photo ID . By providing your ID you agree that your information may be used and shared with the police and other authorities. Failure to provide suitable photo ID will result in the refusal of admission
Please note that access to Keller & Après cannot be guaranteed unless tickets have been purchased in advance.