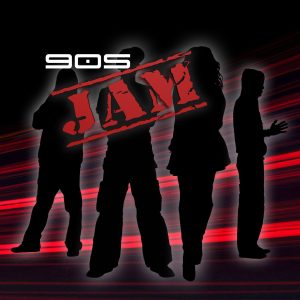 ***SOLD OUT***
90's Jam – 90's Tribute 90s Dance Music Played Live
Experience all your favourite classic 90s Dance Anthems in a brand new way.
Performed live by our incredible band, and with our phenomenal live lighting and video production, 90s Jam is a truly authentic night out, transporting you back to the heyday of 1990s Clubland.
Taking you back to the most exciting musical movement in decades – the dance era of the 1990's. It's fresh, new, unique and not to be missed!
Fronted by the Vocals of lead singer, Jade MayJean (BBCs The Voice 2014) and with a scalable line up of talented musicians and performers to suit the needs of every event, and are fast establishing themselves as one of the UK's must-have act
With very few other acts daring to touch this style of music, 90s jam goes where so many of us want to be taken, back to our youth. School days, Uni days, clubbing, first holiday without parents… Even the more mature audiences appreciate this show with its exciting arrangements, powerful vocals and bags of energy.
90sJam perform the best classic chart, dance and club anthems from the 1990s. From Snap! To Faithless, from Dee-lite to Vanilla Ice, 90s Jam guarantees to get any party buzzing. Taking you through House, Chart, Dance and Club Classics along with popular Drum and Bass tunes from the 90s – The Ultimate 90s Revival – 90s Nostalgia at it's best.
Blow your whistle, put your hands up in the air and let me hear you say yeah!
90s Jam in the house!
Doors open 7pm sct 9.45pm (Standing only in Bier Keller)
TICKETS: £10 SOLD OUT, £12 SOLD OUT, £15 SOLD OUT – includes entry to Après
Prices will increase after first 50 tickets are sold
Doors open 7pm, Band from 9.30pm
Book Tickets Here
****PLEASE NOTE****
That access to Bier Keller & Après cannot be guaranteed for our special events / tribute nights unless tickets have been purchased in advance.
As a condition of entry to the Bier Keller and Après you will be required to provide photo ID and Fingerprint enrollment. By providing your ID you agree that your information may be used and shared with the police and other authorities. Failure to provide suitable photo ID will result in the refusal of admission