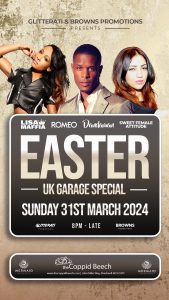 **Easter UK Garage Special**
Easter 2024 Glitterati & Browns Promotions kick off the year of large with a host of legends from the scene in one all star line up!
Join SoSolid's Lisa Maria & Romeo alongside DJ DanDaMan with very special guest Sweet Female Attitude who will be performing 'Flowers' Live plus an hours DJ & Vocal mash up performance!
Tickets are very limited for this Easter Extravaganza so get yours today!
Keller and Après Plus Supports
JayCee B & Trigga
Room 2 – TBC
TICKETS:
First Release £25
Second Release £25
Final Release £35
VIP £700: Seats 20-Complimentary glass of Champagne, fast track entrance, Host table service.
8pm – 3am
Note: As a condition of entry to the Bier Keller and Après you will be required to provide photo ID. By providing your ID you agree that your information may be used and shared with the police and other authorities. Failure to provide suitable photo ID will result in the refusal of admission
Please note that access to Keller & Après cannot be guaranteed unless tickets have been purchased in advance.