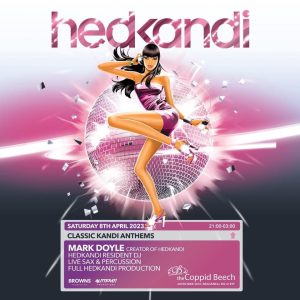 Welcome to HedKandi – record label and international club sensation. Join us on Saturday 8th April as we transform this amazing venue into a divine Wonderland of disco beats and decadence!
Launched in 1999, HedKandi has evolved from humble beginnings as a compilation brand to the global phenomenon it is today. With a catalogue spanning over 80 albums, numerous artist projects, and a host of Top 40 hits to date, HedKandi is a globally renowned house music brand and is now heading Bracknall for an easter special!
Delivering the finest house music to grown-up clubbers eventually snowballed into HedKandi parties and our first full residency began in London in 2002. The popularity of the nights increased exponentially, leading to residencies all over the UK, and now, the world. Catch us in Ibiza, Doha, Singapore…every place you want to be spotted, we're there!
We brighten up your Easter weekend at The Coppid Beach, John Nike Way,Bracknell, RG12 8TF with a delicious dose of disco from the legendary HedKandi brand!
DJs
Mark Doyle (Creator of Hedkandi)
HedKandi Resident DJ
Live Percussionist
Live Sax
Full HedKandi Production
– –
Tickets:
£15 Earlybird (Strictly Limited)
£20 Standard
VIP-1 £600 SEATS 20 'Complimentary Glass of Champagne' on entry
VIP-2 £300 Seats 10 'Complimentary Glass of Champagne' on entry
VIP-3 £300 Seats 10 'Complimentary Glass of Champagne' on entry
Book Tickets Here
8pm – 3am
Note: As a condition of entry to the Bier Keller and Après you will be required to provide photo ID. By providing your ID you agree that your information may be used and shared with the police and other authorities. Failure to provide suitable photo ID will result in the refusal of admission
Please note that access to Keller & Après cannot be guaranteed unless tickets have been purchased in advance