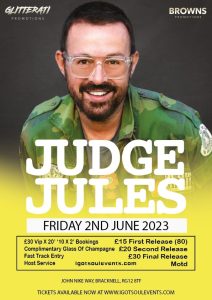 Browns & Glitterati promotions are delighted to present to Bier Keller & Apres, Coppid Beech, one of the most recognised DJ's on the planet… Judge Jules!
Join us on Friday 2nd June 2023 for a legendary party!
He's one DJ that has been there, done it, and done it all again. For almost three decades Judge Jules has led the way in the world of dance music. Since kicking off his career behind the decks in 1987, Judge Jules has ticked every box, as a DJ, producer, promoter, A&R, radio presenter, taste-maker and, more recently, a music specialist lawyer.
Wideley recognised for influencing an entire generation with residencies on both Kiss FM and BBC Radio 1, to this day the Judge continues to be on the playlists of millions with his weekly radio show The Global Warm Up, which notches up 750,000 downloads every week via his podcast and is broadcast on over 80 stations around the world.
As a pioneer of the club scene, his passion and persona behind the decks coupled with crowd connection and unrivalled track selection has earned Judge Jules a hardcore fanbase and unforgettable sets week-in week-out at the world's most iconic clubs and festivals, including the UK's Gatecrasher, Ministry of Sound, Global Gathering and Creamfields, as well as in countless overseas countries.
Phases come and go, genres are born and laid to rest in the blink of an eye, but one thing is for certain… The Judge won't budge.
– – –
£15 Earlybird (Strictly Limited)
£20 Standard
Tickets includes entry to Bier Keller
Keller doors open 7pm
Book Tickets Here
Note: As a condition of entry to the Bier Keller and Après you will be required to provide photo ID. By providing your ID you agree that your information may be used and shared with the police and other authorities. Failure to provide suitable photo ID will result in the refusal of admission
Please note that access to Keller & Après cannot be guaranteed unless tickets have been purchased in advance.