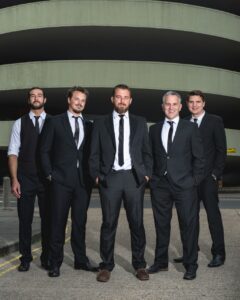 Mirrorball are a party band that have established a reputation for playing a wide variety of styles of music to audiences across the south of England for the last decade.
The band regularly receive praise for their extensive repertoire which features songs across six decades, and their sets are guaranteed to continue to fill dance floors. Mirrorball band prides itself on being a cover band that plays cover songs with a difference. The musicians in Mirrorball are all hugely talented performers, whose love and enthusiasm for playing together is obvious from their entertaining performances.
Doors open 7pm, act 9.45pm (Standing only in Bier Keller)
IMPORTANT: The wellbeing of our Customers and staff is paramount to us and therefore we will be requesting evidence of a Covid passport for entry. We understand that some guests may not have completed their vaccinations yet and in that instance we ask those guests to provide evidence of a lateral flow test, (Home test kits are available FREE from the NHS, pharmacies or your local testing centre).
Should you test positive and can't attend an event, please advise us in advance, and we will transfer your ticket to another event (subject to availability) of your choosing once you've finished isolating.
Note: As a condition of entry to the Bier Keller and Après you will be required to provide photo ID and Fingerprint enrollment. By providing your ID you agree that your information may be used and shared with the police and other authorities. Failure to provide suitable photo ID will result in the refusal of admission. NO ID, NO ENTRY