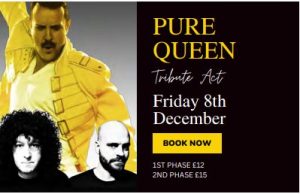 Superb Live Tribute to the Legendary Freddie Mercury & Queen
Pure Queen a tribute to Queen & Freddie Mercury, Mark (as Freddie) has been captivating audiences with his breath taking solo & duo tribute act to Freddie Mercury and Queen. With the untimely loss of the late great Freddie Mercury in 1991 there has always been a huge void to fill in popular music. So with endless studies of live shows Mark has recreated the very essence of Freddie`s stage charisma! making him the number one Freddie Mercury impersonator. Production is flamboyant with an historical look at the legend that will endure and always remain timeless.
With many years of experience as a professional entertainer, including T.V appearances, BBC 1's Tribute show "Even Better Than The Real Thing" with Paddy McGuinness. If you want your venue to be dancing and singing the whole night away, then you will be enriched by one of the greatest tribute shows of all time!….. !!PURE QUEEN!! ….
TICKETS: £12 & £15 – includes entry to Après
(Standing only in Bier Keller)
Doors open 7pm, act 9.45pm
Book Tickets Here
Note: As a condition of entry to the Bier Keller and Après you will be required to provide photo ID. By providing your ID you agree that your information may be used and shared with the police and other authorities. Failure to provide suitable photo ID will result in the refusal of admission
Please note that access to Keller & Après cannot be guaranteed unless tickets have been purchased in advance.