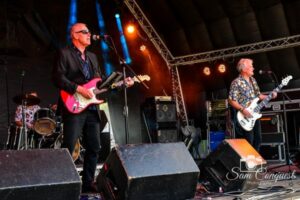 The Replays, a live professional function and party band specialising in 60s and 70s Rock n Roll. We perform around the UK, but are based in the Surrey, Berkshire, and London areas. Our band members are all incredibly hard-working professionals with a depth of industry experience, training, musical knowledge, and credits to their name.
Covering all the well-known songs from the 60s and 70s our repertoire includes big hit songs from The Beatles, The Stones, The Kinks, The Troggs, The Who and many more. This means that we can tailor our musical performance to suit the event. No matter what the occasion, our live band will deliver a high energy performance that will impress your guests and make event a great success!
The band features Paul Hudson on vocals and guitar formerly of "Rocky Sharpe and the Replays" whose top twenty hits include "Ramalama Ding Dong" and "Shout Shout". Paul also wrote the crazy Rock n' Roll feature 'Straighten out the Rug' for Hollywood movie star Val Kilmer which Val performed in the comedy film spoof 'TOP SECRET' (Paramount Pictures).
Doors open 7pm. band 9.45pm (Standing only in Bier Keller)
Note: As a condition of entry to the Bier Keller and Après you will be required to provide photo ID and Fingerprint enrollment. By providing your ID you agree that your information may be used and shared with the police and other authorities. Failure to provide suitable photo ID will result in the refusal of admission. NO ID, NO ENTRY