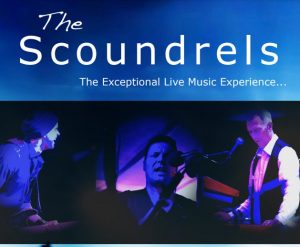 Exceptional Live Music Experience!
The Scoundrels are a highly polished, high energy 4 piece covers band performing a selection of pop, rock and disco hits that span the decades.
With our mix of 70's, 80's and disco tunes, progressing to more modern classic anthems, we keep the dance floor packed throughout the evening!
Come and see us, and join in the fun!
Doors open 7pm, band 9.45pm
Note: As a condition of entry to the Bier Keller and Après you will be required to provide photo ID and Fingerprint enrollment. By providing your ID you agree that your information may be used and shared with the police and other authorities. Failure to provide suitable photo ID will result in the refusal of admission