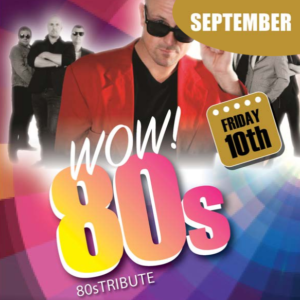 Wow 80's – 80's Tribute
How do you remember the 1980's? Watching films like Back To The Future or Footloose, Maybe dancing the night away to Wham, Duran Duran and Lionel Richie in your local nightclub?
However you remember the decade that brought us Transformers, leg warmers and the Rubik's cube WOW 80's will be sure to get those 80's juices flowing once more.
Gigging around the UK and Europe for many years all members of WOW 80's have performed in and founded leading tribute acts such as: Beautiful World (Premier tribute to Take That) ABBA Dayz (The UK's top Abba tribute for a decade) and Ultimate Madness (Award winning tribute show to the crazy antics of Madness)
Bringing you the amazing sounds of artists such as: Duran Duran, Madness, Lionel Richie, Wet Wet Wet, Queen, ABC, Go West, Phil Collins, David Bowie and many more! WOW 80S truly bring colour and excitement to any event.
£10 advance, £12 on door, ticket – Includes entry to Apres
Doors open 7pm, Band 9.45pm
IMPORTANT: The wellbeing of our Customers and staff is paramount to us and therefore we will be requesting evidence of a Covid passport for entry. We understand that some guests may not have completed their vaccinations yet and in that instance we ask those guests to provide evidence of a lateral flow test, (Home test kits are available FREE from the NHS, pharmacies or your local testing centre).
Should you test positive and can't attend an event, please advise us in advance, and we will transfer your ticket to another event (subject to availability) of your choosing once you've finished isolating.
Apres has implemented measures with sanitation stations that are available throughout the club.
****PLEASE NOTE****
That access to Bier Keller & Après cannot be guaranteed for our special events / tribute nights unless tickets have been purchased in advance.
As a condition of entry to the Bier Keller and Après you will be required to provide photo ID and Fingerprint enrollment. By providing your ID you agree that your information may be used and shared with the police and other authorities. Failure to provide suitable photo ID will result in the refusal of admission