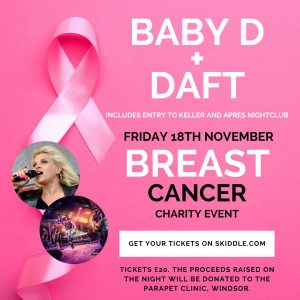 Breast Cancer Charity night with !daft!, Baby D and guest DJs
The Keller & Apres in conjuction with Empire Security, is proud to be the host venue for an exciting night of music and entertainment which will raise funds for the Parapet Breast Cancer Clinic, Windsor, on Friday 18th November 2022.
Baby D – "Let Me Be Your Fantasy" reached number 1 on the UK Singles Chart , The success continued with "(Everybody's Got to Learn Sometime) I Need Your Loving" (a 1995 cover of The Korgis classic), "So Pure" and "Take Me to Heaven", all included in the album Deliverance (1996).
At the first MOBO Awards show in 1996 Baby D won in the category "Best Dance Act".
!daft! are a party rock cover band comprising 5 professional standard musicians who perform high energy and dynamic gigs. Their sets and gigs are designed to be fun, enthusiastic and crammed with recognisable anthemic tracks from artists including Queen, Guns N' Roses, The Killers, The Fratellis, Green Day, Elvis, Bon Jovi, Madness, Kaiser Chiefs, Oasis, Michael Jackson… even ABBA and Take That, plus many more legendary groups.
It promises to be an exciting night of live music & all for a very important cause.
The proceeds raised on the night will be donated to the Parapet, a dedicated breast unit to ensure that more vital equipment can be purchased to continue their vital work.
Doors open at 7pm Live music from 9:30pm
Apres closes at 2:30am.
Tickets are £20.00 (plus booking fee)in advance -includes entry to Apres
Book Tickets Here
Note: As a condition of entry to the Bier Keller and Après you will be required to provide photo ID . By providing your ID you agree that your information may be used and shared with the police and other authorities. Failure to provide suitable photo ID will result in the refusal of admission
Please note that access to Keller & Après cannot be guaranteed unless tickets have been purchased in advance.
The Keller & Ares are located at the Coppid Beech Hotel, Bracknel