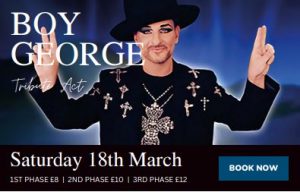 The Boy George Experience performs all over the world and is an unique tribute act that goes from strength to strength and is the only singer that comes anywhere near sounding exactly like Boy George.
Keith performs all the Culture Club classics as well as George's solo hits and wherever he performs the audience love him. Keith's show incorporates live vocals with numerous character and costume changes.
Successful tours to Australia, South Africa, Ireland, Italy, Germany, and extensively throughout the UK, in venues ranging from nightclubs to indoor and outdoor arenas
Keith has been endorsed by the man himself and his Costumes have been designed by Martin Taylor who also designs For Paul O'Grady (Lily Savage), Ali G and Gayle Tuesday.
Tickets: 1st phase £8, 2nd phase -£10 , 3rd phase £12 – includes entry to Apres
(Standing only in Bier Keller)
Book Tickets Here
Doors open 7pm, act 9.45pm
Note: As a condition of entry to the Bier Keller and Après you will be required to provide photo ID By providing your ID you agree that your information may be used and shared with the police and other authorities. Failure to provide suitable photo ID will result in the refusal of admission
Please note that access to Keller & Après cannot be guaranteed unless tickets have been purchased in advance