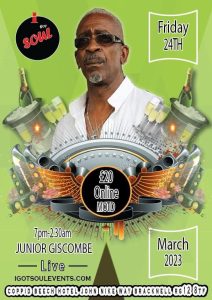 I Got Soul – Junior Giscombe with Full Backing Band
Junior Giscombe signed to Phonogram Records, 1982 and hit the chart heights with the infectious anthem 'Mama Used To Say' which became a transatlantic hit, prompting Junior Giscombe's appearance as the first black British artist on Soul Train and earning him Billboard's 'Best Newcomer Award'presented by the legendary James Brown. The U.S. hit, 'Too late' which reached no 8 and his auspicious debut album 'Ji' followed.
Junior Giscombe's second album 'Inside Looking Out' was released in 1983 featuring the U.S. hit 'Communication Breakdown'. Travelling throughout the U.S. for promotion, Junior teamed up with the renowned producer Arif Mardin, who was later to contribute tracks to Junior Giscombe's third album 'Acquired Taste' released in 1984. That same year Junior wrote 'Do You Really Want My Love?'for the multi platinum selling Beverly Hills Copsound track album. He was subsequently enjoying success as a songwriter with his compositions recorded by artists such as Phyllis Hyman and Sheena Easton.
What followed in 1987 was Junior Giscombe's biggest European hit, 'Another Step', a duet with Kim Wilde, which reached number 6 in the U.K charts. A string of performances including a tour with Wilde as opening act for Michael Jackson took place.
Towards the end of 1987 Junior completed 'Sophisticated Street', his fourth and last album for Polygram. Recorded in Minneapolis with producer Monte Moir and in L.A. with Stewart Levine, the track 'Yes If You Want Me' emerged as the album's biggest hit single, providing Junior with yet another top 20 U.S. R&B entry in the Spring of 1988.
Dj – Calvin Francis
Tickets include entry to Apres
£20-25 MOTD
Doors open 7pm, Band 9.45pm
Book Tickets Here
Please note that access to Keller & Après cannot be guaranteed unless tickets have been purchased in advance
Note: As a condition of entry to the Bier Keller and Après you will be required to provide photo ID. By providing your ID you agree that your information may be used and shared with the police and other authorities. Failure to provide suitable photo ID will result in the refusal of admission